NEW YEAR RESOLUTIONS
So here it goes. My first time writing any sort of resolutions. I heard many times, that you should write down your goals and read them every day, so you stay motivated and committed to your end goal. So I figured, I could write it down on the blog, share them with you and this way we can inspire each other.
Instagram for me is a special place. It's where I share almost every aspect of my life, where I get inspired, my source of information, even my job you could say. So this year I took a trip down the memory lane and picked out some of my favourite photos, or those, that for one reason or another mean something more to me. I figured I could get inspired watching things I did, and remembering things I wish I had done. Also a big thank you to every one of you who helped me with writing these on Instagram questions, it really helped a lot!
I will go through months, highlighting some of my Instagram posts and doing a recap of 2018, and writing a resolution down for every month.
Not even going to lie, January 2018 was a hard month for me. It forced me to rethink some relationships I had, to let go some of the people I loved, to remind myself why I'm doing some things.
I spent a lot of time reflecting on myself, and staying inside.
So my first resolution is STAY FOCUSED. You love what you are doing. Your goals are clear and you are going to achieve them. Only by believing in yourself will you get to where you want to be. There is no time for whining and letting go of the things you want, that just makes the process longer. Keep your focus, keep on doing things the best way you know how. You will continue to grow, even through set backs.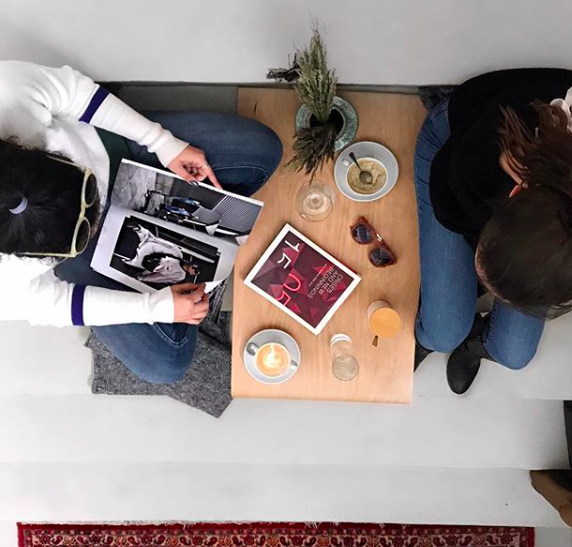 If I thought January 2018 was bad, February thought me a hard lesson. Well a few of them. I went through some tough emotional stuff, with various people. From the people who mean the world to me being in pain, to me being hurt by those who I love and respect the most. I began questioning myself, the relationships I build with people, how I act towards friends. I ended up proving to myself, that I know exactly who I am and what I give, what I want and deserve, and expecting nothing less. I am getting teary eyes just thinking about everything, but I am a firm believer that everything happens for a reason.
For 2019 I command myself to KNOW MY WORTH. I am going to achieve that by getting to know myself more, the way I think and feel, and only when I will fully respect myself, the good and the bad, will I be able realise my worth. That means emotionally and financially.
Under this Instagram post I wrote that happy people read and drink coffee. Even though I probably found this quote on Tumblr, I believe in it. Absorbing information is the biggest weapon you can have. And funny enough, even though I believe in this, I haven't read much in 2018.
So in 2019 I will INVEST IN KNOWLEDGE. I will read more books about what interests me, I will take a class of Italian language, and I will learn the things I was always curious about.

In 2018 I had the honour to be a part of some amazing stories. And I felt so proud of myself, especially in April. I worked hard, and saw results. But I kept forgetting that results don't come overnight. If January taught me to keep my focus, April definitely remembered me that in order to see results, you must work hard continuously, and have a plan with a clear finish line.
I love being organised, but organisation often puts me under too much pressure. So in 2019 I will make A PLAN OF ACTIVITIES I wish to do, and will not blame myself if everything doesn't go as planned. I will make a schedule of the things I need and want to do, and organise myself properly, so I get to do them.
May was amazing. I became much more calm and clear about my future. I made some serious decisions, and had A LOT of fun. I began feeling more like myself than ever before, and enjoyed so many little moments of victory.
May taught me that you need to have big goals but BE PROUD OF THE SMALL VICTORIES. So in 2019 I am not going to expect too much from myself. I will stop bumming myself out because of silly things, because the only thing that matters is how much I have achieved looking back on my own life, not the life of others. I will be proud of myself for every little victory, even if it is as small as feeling good in tight jeans.
June, oh june. If you were a person I would hug you. You made me almost as happy as sunflowers do. I'm not saying there weren't bad moments. I probably cried the most in June 2018. Especially when my Verika left. And when I moved to my very first apartment. But June showed me, that crying isn't always that bad, because if you have friends, that will make you this emotional and happy, you have pretty much everything.
My June resolution is to KEEP ON CARING. Sometimes I try to convince myself that I shouldn't care so much about everything. Sometimes others try to convince me that. But as much pain as caring too much can bring, there is also no greater joy than receiving love back. So keep on loving, as hard as you can, and the right people will appreciate you for it.
July was also very happy. I traveled a lot, and that made me feel so full. But I realised how important food is. Taking care of your body is insanely important, especially if you have any medical problems, like I do. I stopped eating meat somewhere between July and August, even though I never thought I could do that. And it actually made me feel so much better.
In 2019 I want to have an even BETTER RELATIONSHIP WITH FOOD. I want to eat regularly and locally. Buy at the market, try out new recipes, be strict about my meals and the ingredients I put into my body. I have to say I'm on a good way there, but there's still a lot that needs to be done. I will research food, recipes, local food, where to buy…
AUGUST
Hello August, my most and least favourite. You begin with my birthday, and always end on a bitter note. Every year you teach me the most, and for that I am grateful. But can you be a little kinder next year?
What can I say, I'm a true Leo. As one of the most ambitious sings, I have plenty to roar about. Often thinking about myself as the queen of the universe, fiercely loyal and protective of loved ones, always conscious of making everyone proud, neglecting not everyone has the same view of the world as I do.
I read a lot in August and got lost in my emotions, literally. I needed to learn how to tame my pride and be less concerned about appearances. But even that has come to bite me in the ass, as my will to change has brought me even worse consequences. Change can not happen from today to tomorrow, and I forgot that. I don't like to answer to anyone, but if someone doesn't answer to me, my natural need to be in charge hurts.
In 2019 I need to learn how to LISTEN TO ONLY MYSELF. For me, my opinion is the only one that should matter, as I am in charge of my life and the decisions I make. I need to stop over explaining everything to everyone, searching for consolation for the harder decisions that need to be made by me, and me only.
September was eventful. Literally. I learned that I NEED TO BE IN CHARGE OF MY FINANCES. Since living alone I've been struggling with balancing where my money goes. I used to have an app, where I would write down all my purchases, so I knew exactly how much I spent where. So that's what I'm going to do in 2019 again. I need to start saving some money for bigger purchases and travels, so this needs to happen urgently.
October 2018 was "the one with all the flowers that wither". It was the moodiest of all months. I don't think I've ever been more doubtful of myself or my future, and I don't think I've been in a bad mood for a longer period of time than in this October.
One of my best friends told me I should write down 3 things I'm grateful for every day, and my mood will change. And she has been through a lot, so I am thinking I should listen to her. SHOW GRATEFULNESS MORE OFTEN will be my new 2019 motto. I will write down the thing that I was most grateful for that day, every day before I go to sleep. Maybe I should buy a special notebook for that… (I have way too many notebooks said no one ever).
If November would be a flight, it would be turbulent and the plane would crash. In November 2018 I needed to face my emotions, which wasn't easy. I made some of the biggest decisions, that I'm still not 100% sure of. But that is life. Excepting change, adapting to it, and making it your own. This November will leave big traces in my life, and I already know it. It reminded me that my health is the most important thing. It guided me through things I have already lived out in the past, just to remind me I shouldn't take anything for granted. Especially my health. I haven't openly talked about my health problems, because I feel like i don't need to put even more attention to that, but at the end of the day it's also a big part of me. So November, thank you. Thank you for telling December I haven't learned a thing in the last two years about listening to my body. Thank you for ending the year in a way, that made me become more determined about the next one.
My heart hurt, literally and figuratively. It reminded me of old pain in the most unpleasant way, and it made me rethink the way I live my life. So I have decided to start taking care of myself more, mentally and physically.
I always wanted to TRY YOGA, and I couldn't stop thinking about it the whole month. And then out of nowhere an opportunity came (talk about sending thoughts to the universe). The cutest studio opened up in Ljubljana, inviting me to try one of their curses. Thank you so so so much EX teater (click here) for giving me the opportunity to try out something new, do something good for my body. I will share my progress with all of you, of course. By the time you are reading this there will be another giveaway happening on my Instagram (click here), and you can win a few visits to any of the courses they offer. For now all I can say is that the people behind the story are so amazing and warm, and their courses are so unique (EX-teater is an Initiative for Transdisciplinary Performance). You can read more about it on their page, but make sure you enter the giveaway, and maybe we can even try yoga or some other course together!
Here it is. The last one of 2018.
December is basically November's younger brother. He keeps learning me lessons I refuse to teach. Health comes first. I am sick again, but this time I'm taking it seriously. I also cut my hair really short, so you know change is coming lol.
Decembers lesson that continues in 2019 is that even though I should work hard and stay focused, I should also REST. My own limits may be different from someone else's and that is nothing to feel ashamed about. Learn to listen to your body and mind, take it easy and respect your time. If you need to take a break, take it. Nothing else is more important.
That is all for this year, let's hope 2019 is less about realisations and more about actual progress.
Do not forget to enter the giveaway on my Instagram (click here).
And have a wonderful Christmas, don't forget about your own limits and wishes. Rest, take time for yourself, so you can go into the new year with full power.
Until the next year,
xx